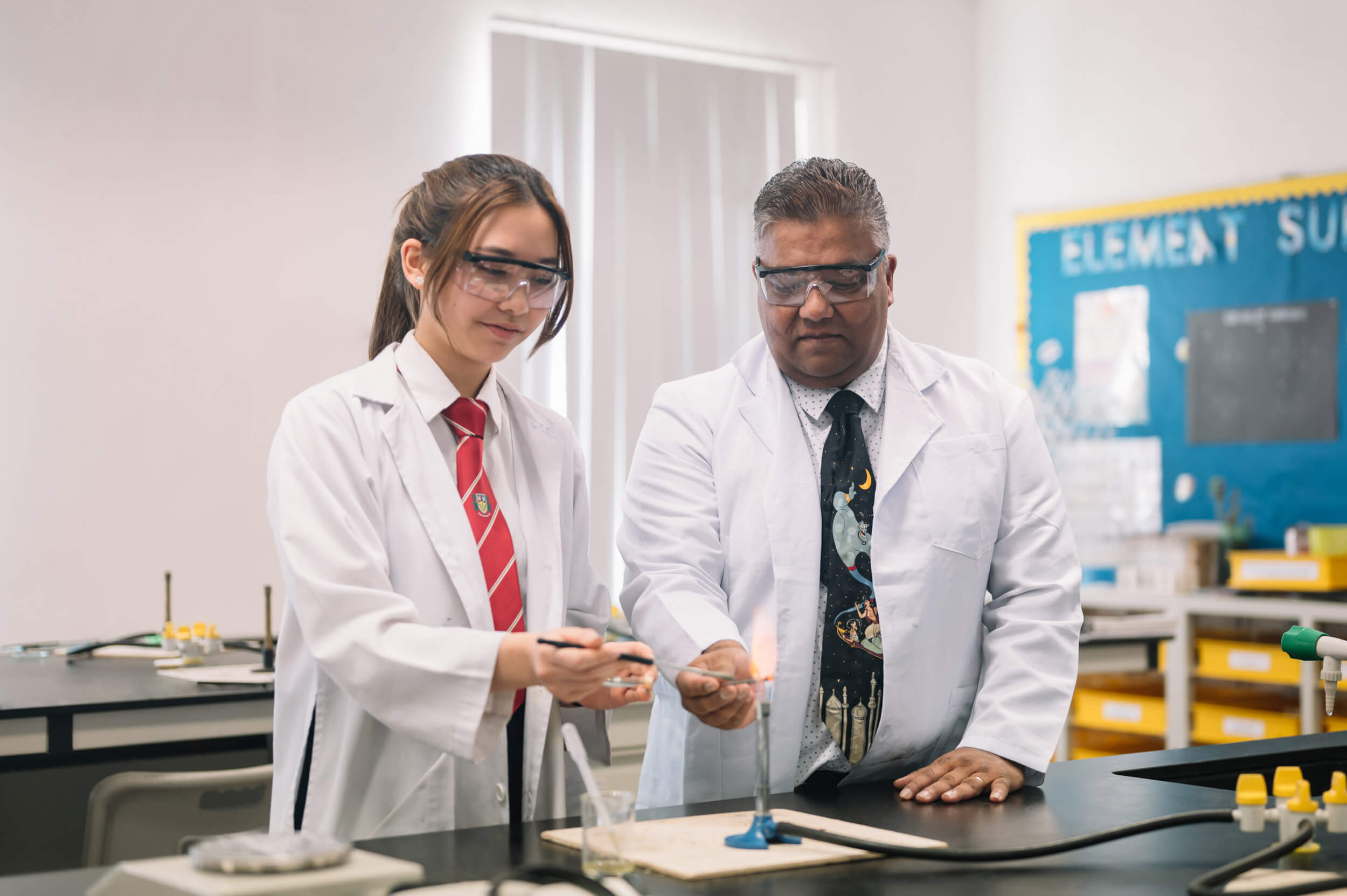 Curriculum
POWIIS Balik Pulau

Curriculum
At POWIIS we provide students with a range of challenging and enjoyable opportunities to develop deep understanding. High quality learning comes about through meaningful, rigorous and authentic experiences where the learner is guided and encouraged to be confident, reflective and dedicated.
Our curriculum is based on the National Curriculum for England and Wales and is split into three key stages. Key Stage 3 (years 7 – 9), Key Stage 4 (years 10 – 11) and Key Stage 5 (years 12 – 13). We offer a broad range of subjects which provide a well rounded education and prepare students for success in the modern world.
Key Stage 3 (Years 7 – 9)
The Key Stage 3 curriculum is based mainly on the National Curriculum for England and Wales but is extended and adapted to suit all abilities and to fit the local environment. It introduces students to subjects and study techniques that help them to prepare for their exam years.
All students study English, maths, biology, chemistry, physics, geography, history, art, DT, drama, music and computing. They also have a choice of two languages from Bahasa Malay, Spanish and Mandarin. Where needed students will also have additional English support.
In lessons students are guided to develop their soft skills as well as further their academic understanding. Collaboration, creative thinking, independent learning and problem solving are a few examples of the elements integrated into our curriculum to not only support academic achievement but to prepare students for the future. Our curriculum is also supported by a programme of trips and events to support the learning of our students.
Year 9 students and their parents have an options event and meetings with the careers counsellor to help them choose their iGCSE subjects.
Key Stage 4 students study for their IGCSE exams, which they sit at the end of Year 11. The IGCSE is an international version of the compulsory school examinations in England and Wales but is more suited to students in international schools as it allows us to use case studies and texts which are more appropriate to this region. The IGCSE is the most popular examination worldwide for 14-16 year olds and is seen as excellent preparation for A Level and other post 16 qualifications.
Our IGCSE courses follow a prescribed curriculum administered by examination boards in England. At POWIIS we use two examination boards to administer our examinations: Cambridge Assessment International Examinations (CAIE) and Edexcel. These are chosen by individual subjects, using their professional experience to provide the best possible outcomes for their students.
IGCSEs help students to develop their study skills, as well as techniques and approaches to interpreting information that will help them in their further studies as well as serve as a foundation for their careers.
All students at POWIIS study Mathematics, English Language & Literature and at least one Science. They then choose a further six subjects. Currently the options are:
Art, Drama, Music, Design Technology, History, Geography, Bahasa Melayu, Mandarin Chinese, Spanish, Computing, Physical Education, Further Maths, Economics, Business Studies, Biology, Chemistry, Physics and Double Award Science.
For more information on the subjects please click here.
Key Stage 5  – Years 12-13
(IA Level – International Advanced 'A' Level)
At POWIIS we offer a wide range of IA Level qualifications. Normally, students begin with three or four subjects and, in most cases, these are assessed by examinations in Year 12 leading to an AS level (equivalent to half an A level). When they move into Year 13 they have an option to drop to three subjects to complete their A level qualifications.
Students take IA Levels with a view to their University studies and therefore the choice of subject can be very important, and there are Options events for our Year 11 students to help them choose. At POWIIS we offer a wide range of subjects for students to select from and all of the courses will develop a student's skill and knowledge in that area, giving them a solid base for further study.
Subjects include Art, Drama, Music, Design Technology, History, Geography, English, Media Studies, Maths, Computing, Physical Education, Biology, Chemistry, Physics, Economics, Business Studies and Environmental Management.
For more information on the subjects click here
Explore further with us
Related Topics
You might be interested in